Having Mouthwatering Iftar Buffet in Ramadan at Indigo Hotel
The glittering lights and Moroccan lamps decorating welcome you to the lavish and wholesome Iftar buffet at Lahore Indigo Hotel. I was wanting over the fresh slices of bread and energetic salads when I glanced over the other side lined with golden pots loaded with delicious delights. From Pakistani dishes to Thai, Chinese cuisine, and Continental food, you name it and they have got it! Let's begin with the Ramadan delights. On the rightmost side of the hotel is the Iftar platter with usual samosas, pakoras, spring rolls, channa chat, fruit chat, Dahi Bhalla, chicken tikka, seekh kebab, halwa puri, fried fish, and more which tasted okay and not out of the blue. Fruit chaat was best.
What is Iftar?
Throughout Ramadan, Muslims typically have two meals per day; the pre-dawn meal, suhoor, to prepare Muslims for the fast forward, and Iftar, the post-sunset meal implying the breaking of the day's fast. Iftar normally consists of a healthful and fulfilling meal accompanied by a more moderate, more casual meal or snack just before the nighttime prayers (isha and Taraweeh).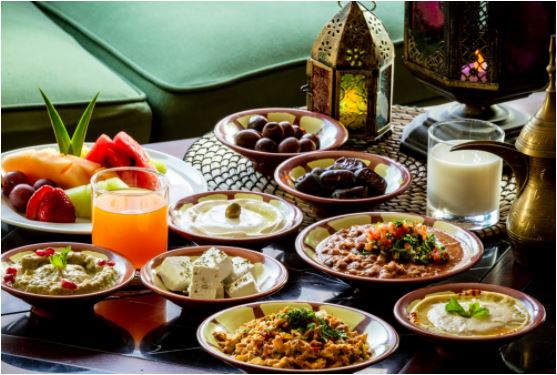 Healthy Food and Drinks
Then comes the salad, sushi, bread, and soup counter which has a variety of delightful, healthy, and fresh food items in Iftar Buffet. Salad and pasta in small bowls are a perfect idea. The salad counter is good for those on diet. But I would suggest you forget the diet for a day and give yourself a little treat because you deserve it! Next to salad and sushi is the counter of deliciousness offering cuisines from Pakistan as well as many continental dishes. Pakistani food choices are Biryani, Murgh karahi, Paye, Nihari, Mughlai murgh, Daal makhni, Mutton Handi, and much more.
Dates are your friend
While dates have been gaining popularity across much of the world as of late, the practice of eating dates during Iftar time has been observed for more than a millennium in Middle Eastern countries. After drinking some water, proceed with your Iftar by having a few dates. Dates are known as a natural source of sugar and contain excellent nutrient content. Having just three of these overgrown raisins after a day of fasting is sufficient in alleviating the almost debilitating hunger pangs.
Don't neglect the proteins
Strong proteins to be accurate. Meals that are high in fibrous protein should be the primary choice for your Iftar meals since protein enables your body to create and restore muscle mass as well as sustaining it. Some good references of food for fibrous protein combine lean beef, white-fleshed, skinless white-meat poultry, and eggs. Furthermore, if you're a vegetarian, strong proteins can also be obtained from foods like beans, peas, and lentils. You can also opt for low-cholesterol yogurt and cottage cheese and lite tofu.
Avoid foods with high fat, sugar and salt content 
It's frequently a good meaning to avoid foods that are high in fat, salt, and sugar. This Ramadan, at Indigo hotel, why not venture to prepare your Iftar buffet by baking, boiling, or steaming them to encourage a healthier lifestyle. You can use mixtures of natural spices and herbs to combine flavor to food rather than salt and sugar. After all, Ramadan is all about combining positive modifications into your life.