Sehri Buffet in Lahore
Lahore, being a city with a rich culinary culture, offers a variety of sehri buffet in Lahore and deal during the holy month of Ramadan.
This year spend your sehri at The Skye, the highest rooftop restaurant in the heart of Lahore. It's always a good idea to make reservations in advance, as this place tends to get busy during Ramadan. Sehri Buffet refers to the meal that Muslims consume before dawn during the month of Ramadan when they fast from sunrise to sunset. It is an important meal that provides energy and nutrition for the day ahead.
Enjoy the wide array of Sehri Buffet at The Skye Restaurant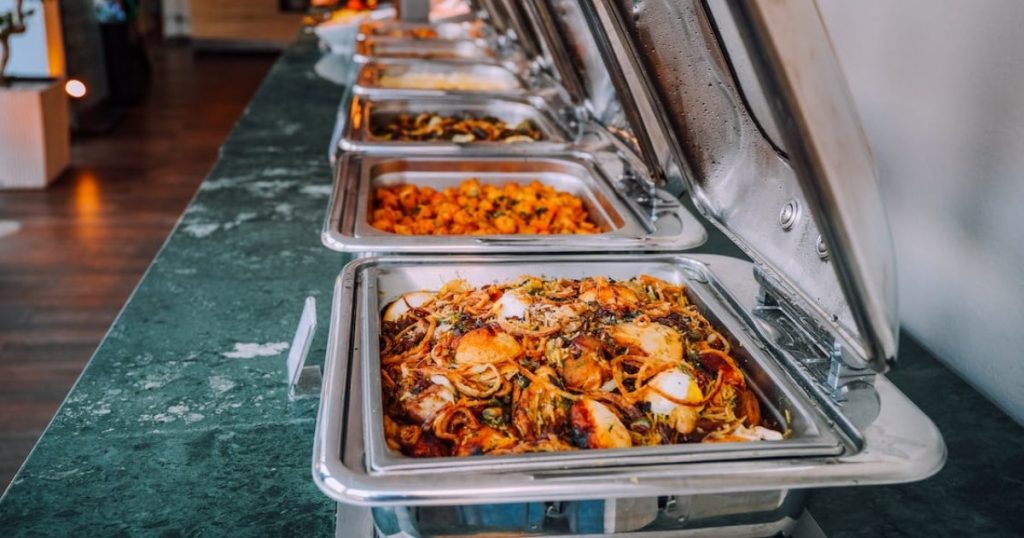 If you're looking for information about the Sehri Buffet deal, it is typically a spread of various dishes that include traditional breakfast foods such as parathas, omelettes, fruits, and yoghurt, as well as some heavier dishes such as biryani, kebabs, and curries. The specific dishes included in the buffet may vary depending on the restaurant or location.
The Skye offers a beautiful rooftop seating area with a view of the city which locates on the 18th floor of the Indigo Hotel. Their Sehri buffet includes a variety of Pakistani and traditional dishes, as well as desserts.
Sahoor Buffet Menu Items:
Beef Nahari 
Chicken Biryani
Mix Vegetable
Daal tarka    
Puri 
Halwa 
Assorted Nan 
Assorted Paratha 
French Toast 
Porridge   
Boiled egg much more
𝐒𝐚𝐡𝐨𝐨𝐫 𝐁𝐮𝐟𝐟𝐞𝐭 𝐏𝐫𝐢𝐜𝐞 (𝐓𝐡𝐞 𝐒𝐤𝐲𝐞 𝟏𝟖𝐭𝐡 𝐅𝐥𝐨𝐨𝐫): 𝟏𝟖𝟗𝟓+𝐓𝐚𝐱
Ramadan Special Sehri Buffet in Lahore at The Skye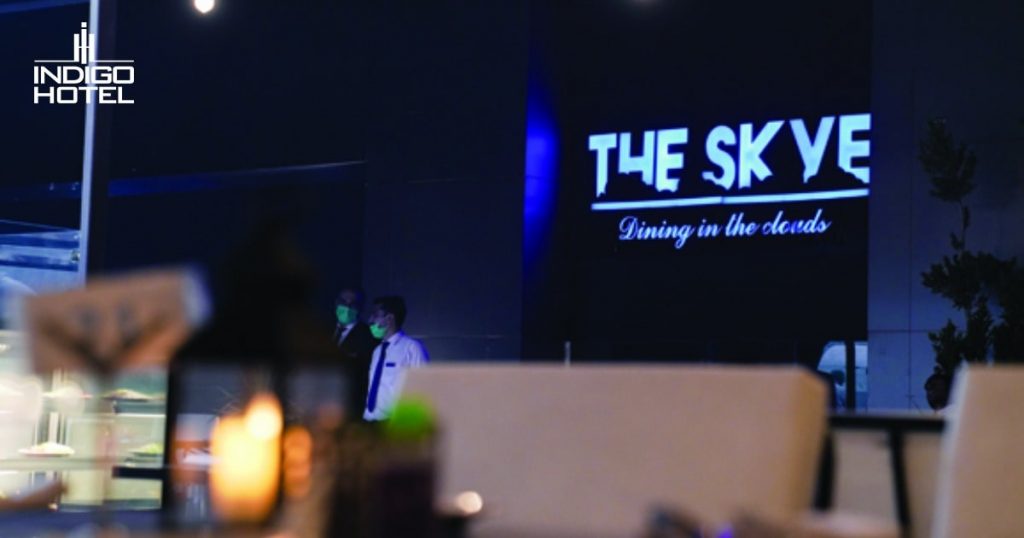 If you want to try a variety of Sehri Buffets, look for The Skye Restaurant which serves this meal during the whole month of Ramadan. This article may be able to provide more information on the particular dishes that are included in the sehri buffet deals.
This article contains the finest sehri buffet in Lahore. As a result, if you plan to bring your friends or family for iftar, The Skye is the best option for the best Ramadan Sehri buffet deals in Lahore. This deal is appealing and beneficial for the family and the group of friends. And sehri at a well-known restaurant is preferable to sehri at home because, in addition to managing a large number of guests and preparing a large amount of food, this is a difficult task.
The Skye Free Voucher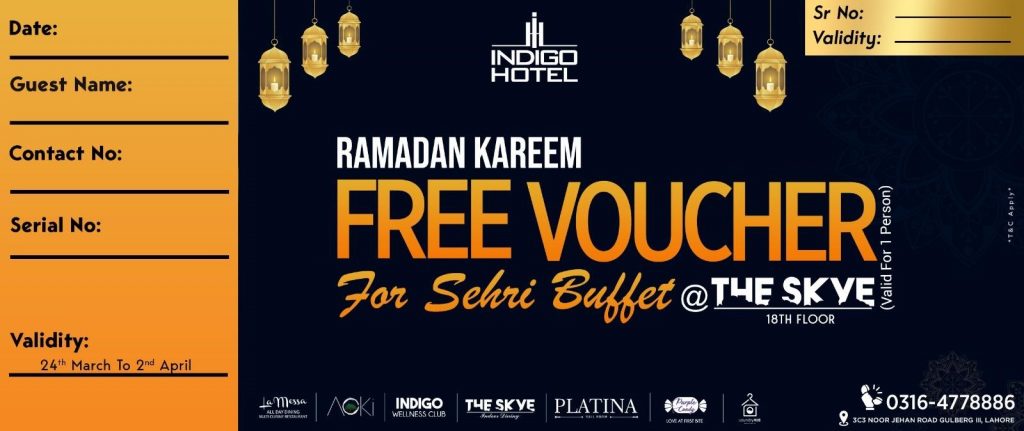 As part of the Ramadan deal, The Skye restaurant provides free sehri vouchers, which are only applicable on The Skye 18th floor and are valid for a single person.
Validity: 24th March to 2nd April
Conclusion
Sehri is the pre-dawn meal that Muslims eat before beginning their day of fasting during the month of Ramadan. During Ramadan, The Skye offers the best sehri buffet in Lahore, which is why this rooftop restaurant is a popular option for its scenic views and atmosphere.
Spend this holy month of Ramadan fasting with family and friends.
It should be noted that the availability of sehri buffet deals at this rooftop restaurant varies based on food items. For the most up-to-date information on their offerings, it's always a good idea to contact this restaurant personally for more information.