Guide To Find The Best Wedding Hall In Lahore
Many bridal couples fantasize about an elegant wedding hall that is stylishly decorated and has plenty of space for a large number of guests. As a result, when the wedding season starts, people look for a wedding hall in Lahore that can accommodate all of their guests.
But how do you locate the ideal wedding hall in your area, and what factors should you consider when selecting a marriage hall?
We have not only many wedding hall tips for you, but also an enchanting wedding reportage in a wedding hall. Get inspired and start dreaming about your magnificent wedding hall in Lahore.
This article divides into the following sections:
How do you start your search for the ideal banquet hall?
Rent a destination wedding: Here you can find a wedding hall
Benefits of choosing a wedding buffet in Lahore
Local service providers and availability
How is the wedding hall equipped?
Think about some factors before signing the contract
The ideal decoration for your wedding ceremony
Final words
How do you start your search for the ideal marriage hall?
This is how you start your search for the ideal marriage hall, and the first question that comes to mind is how much marriage halls cost, so here is the answer to your question: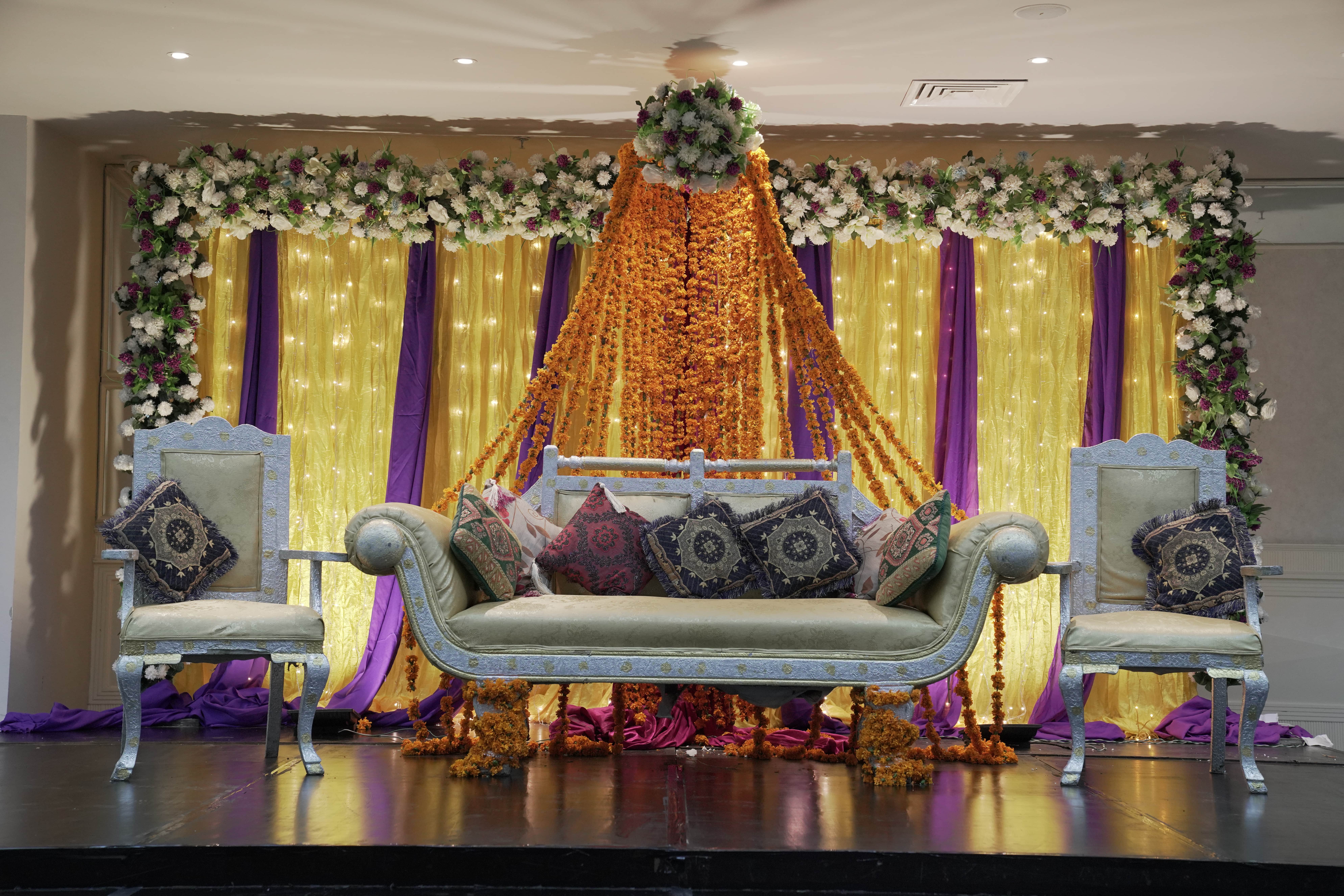 What is the cost of a wedding hall?
Wedding hall prices vary from event to event but in general, the costs of a marriage hall in Lahore can range from a hundred thousand to 30-35 crores. Above all, the cost of a wedding hall is determined by whether or not you use their catering and whether or not the hall charges will be separate.
Simply request an offer from the wedding halls in Lahore in question based on your number of guests and requirements.
1: Determine the number of guests
You should know how many guests you want to accommodate before looking for a wedding hall. Because not only is a wedding hall that is too small unfavorable, but a marriage hall in Lahore that is too large appears uncomfortable and makes it difficult to get in the mood.
Before making a reservation, go over your guest list and the capacity of wedding halls.
Because a smaller wedding with 80 to 100 guests would require at least 1000 square feet for an easy sit-down dinner.
If you are planning a larger wedding with around 250 guests, you will need at least 3000 square feet.
2. What is the available budget?
Setting a budget is equally important before looking for a wedding venue in your area. Because you will be disappointed if you fall in love with a location that later will be out of your price range. It is preferable to set your maximum budget and hide all locations that exceed it.
3. The wedding style
Do you have a wedding motto, a color scheme, or a specific style in mind for your wedding decor?
Then consider which marriage hall in Lahore is best suited for this.
A classic decoration with a fairytale touch, for example, complements a royal castle-themed hall.  As a result, the hall and your wedding style appear particularly harmonious and complement each other perfectly.
4. Do you want to rent a wedding hall nearby?
It makes sense to have your wedding close to your home. It's ideal if you can find what you're looking for in your immediate surroundings and find your dream hall!
If necessary, nearby wedding halls could be considered as a location because it is more accessible to everyone. Alternatively, you can look in your hometown and select a wedding hall with which you have a personal connection. Consider which location makes your heart skip a beat.
Consider the following points when looking for a wedding hall location and surroundings:
Your point of view
Your guest list
Your financial situation
Realistic objectives
5. Do you want an outdoor area for a wedding?
An outdoor space is almost always required, especially for summer weddings. But, at any time of year, your guests will be delighted to be able to get some fresh air or spend some quiet time under the bright sky.
As a result, when selecting a wedding hall, you should specify whether you want the option of holding the ceremony outside.
6. What might the catering look like?
It is beneficial if you have a rough idea of the wedding dinner:
Do you want a wedding buffet or a wedding menu? Do you have a preferred caterer or are you willing to be flexible? Should the catering meet certain requirements that are not met by every wedding hall?
Because some locations collaborate with permanent partners or only provide their catering, these questions can be critical.
What type of service is most commonly used in catering?
There are numerous catering options for weddings, and most wedding halls provide the following services:
Platted services
Gueridon services
Complete silver service
Buffet service is available
Live cooking and BBQ services are available
7. What should the wedding hall look like?
Only the perfect decoration can make a wedding venue complete. During your first visit, you may need to use your imagination to imagine how the room should be decorated. Some rental companies have photos of previous weddings with various decorations that you can use as inspiration.
Ask a few questions about whether the venue already has decorations ready, such as those for decorating the ceiling (hang it with clothes or similar). Room dividers or a unique lighting concept are also excellent options. Due to high ceilings and a lot of space, a wedding hall, in particular, can sometimes appear uncomfortable or overly clean if you save on decoration. Garlands and balloons improve mood – be inspired by our wedding hall searching tips!
8. Plenty of room for an elegant celebration
A flowery decorated acrylic sign with a welcome message greeted guests at the hall's entrance. There was also enough room for the seating arrangement, so the wedding guests could find their way around quickly.
Those guests who arrive with gifts and flowers have a designated space at the gift table. It's a huge relief for the guests to know where they can drop off their gifts.
So there was something for the wedding guests to see and do throughout the hall. Especially at the buffet, where a variety of delicacies awaited you.
Rent a destination wedding: Here you can find a wedding hall
If you are looking for a suitable wedding hall and possibly a reasonable wedding ceremony, you should first look through our business directory. There are many well-known areas in Lahore where you can book elegant banquet halls, such as:
M.M. Alam Road
Liberty
Garden Town
Johar Town
DHA 
Airport Road
Here is my favorite list of "Top 40 Marriage Halls & Marquees in Lahore". Do check them.
Benefits of choosing a wedding buffet in Lahore
A wedding buffet also reduces the possibility of one of the guests going without food.
Some people prefer to eat more, and there is a lot of talk about being too financially secure to offer a real meal at the wedding if the menu isn't quite as lavish. A wedding buffet allows each guest to eat as much as they want. However, care must be taken to ensure that the wedding buffet is sufficient in size.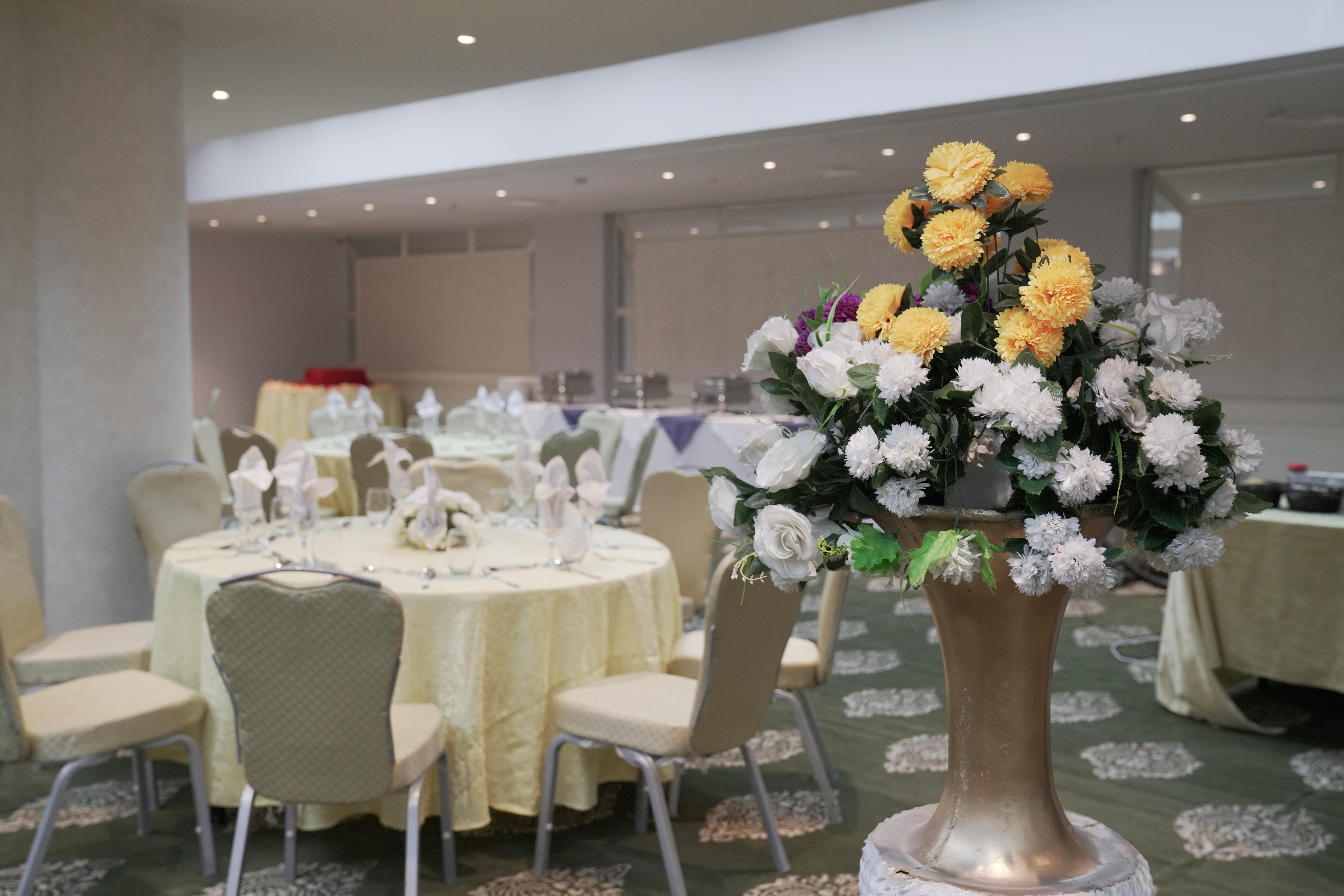 A wedding buffet improves the mood quickly.
As guests get up and move back and forth between the buffet table and the dining table, the buffet has a very relaxing effect.
Local service providers and availability
Overnight stay and accommodation: 
Ensure that your guests have adequate hotel accommodations both before and after the wedding. Does the location have the necessary resources? Or are there enough beds in other locations (hotels, guesthouses, or guest rooms) in the nearby area where the wedding takes place? How are guests transferred from the hotel to the wedding venue and back? For bad weather, if your ceremony benefits from the great surroundings (beautiful landscape), i.e. it should take place entirely or partially outside the garden or park. 
Service providers on-site: 
Are there any other amenities or even necessities for the guests, aside from the service providers you organized for the wedding (e.g., the pastor, the DJ, the florist, or the catering service)? Some guests, for example, wish there was a hairdresser nearby. You want to look particularly lovely for your wedding reception.
The ideal decoration for your wedding ceremony
Only a fantastic wedding decoration can transform into a fantastic wedding hall. Whether romantic, modern, or playful, it is the decoration that captivates the location in the desired atmosphere. When your guests walk into the wedding hall, it should not only be bright and cozy. Above all, it should reflect your wedding's motto.
A magical wedding hall decoration made with love goes far beyond a small table decoration and a few flowers. In every corner of the room, a stylish wedding decoration pursues an overall idea. Both the "look" and the "feel" should complement each other. It's all over after that.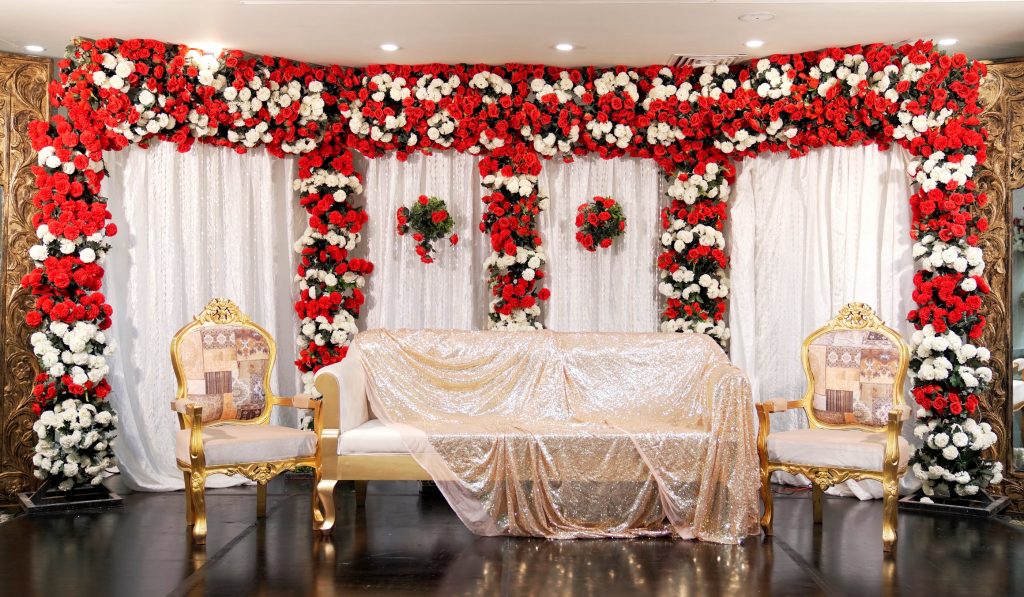 Step-by-step instructions for the perfect wedding hall decoration:
Selecting a Location: As previously stated, the wedding decoration begins with the hall and its surroundings. A romantic location should be staged romantically. A modern wedding hall can be staged more effectively. Otherwise, contradictions may undermine the credibility of emotional images. The effect would suffer as a result.
Determine Colors: If you're thinking about hiring a professional wedding decorator in Lahore, where do you think they'd start after deciding on a venue? This is a folder where you can collect or pin all of your wedding inspirations and ideas as a collage: colors, shapes, sketches, photos, suggestions, fabrics, and so on.
Coordinate materials: You must now decide which fabrics and material preferences you want for your wedding.  Don't be afraid to include elements that are popular on their own (e.g. wood and stone samples). Plastic elements that convey both a visual and a sense of touch impression are extremely useful in wedding planning.
Creating table decorations: The next steps come almost naturally. The appropriate decoration for the guest tables, such as the gift table and even the high tables in the outdoor area. Your collected ideas almost scream about which devotional items are appropriate and which are not.
Organizing flowers and floral arrangements: Floral decorations are just as simple as table decorations. Show your trusted florist your ideas. The professional will then know exactly what the bridal bouquet, table arrangements, and flowers for the entrance should look like.
Entrance design: The first impression leaves a lasting impression. This is also true for weddings and the entrance to the wedding hall. When guests arrived, they were greeted with magnificent objects at the entrance. It also does not have to be a large flower arrangement. Even very large plants, massive paintings, or lush statues do their luxurious work and create a one-of-a-kind atmosphere for your wedding celebration.
Final words
When you want to start looking for wedding halls in Lahore, read this foolproof guide. This article contains all of the information you require. Despite all of your collected ideas and suggestions, you should still have a sense of appropriate proportions and contrasts when it comes to practical implementation. Everything does not have to be light or dark, big or small. In interaction, each thing has the perfect contrast to the neighboring object and the perfect size. Hopefully, you enjoyed this article and that you have a lot of fun planning your wedding and looking for the perfect wedding hall!